SASFC enters Senior Mens teams into the social leagues of the 2022 Mainland Football Winter Season
Players wishing to play in the Womens Premier League, Canterbury Womens Championship League, Southern League, Canterbury Premier League and Division 1 will play in a Coastal Spirit SASFC team in a partnership between the two clubs.
Head over to the Coastal Spirit SASFC hub to find out more!
SASFC entered two teams into the Mens Competition in 2021
The Thunderpanthers played in Division 1 and The Citizens played in Division 7 – these teams will play again in 2022 at equivalent levels of the competition.
If you would like to get involved, contact Aaron Peck via email to registration@sasfootball.club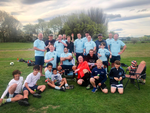 Interested in joining a Masters team?
SASFC had a 35+ team in 2021 and are considering entering a squad for 2022, depending on player numbers.
Get in touch with your details by emailing info@sasfootball.club and we'll get right back to you!